17 Main St., Grand Bend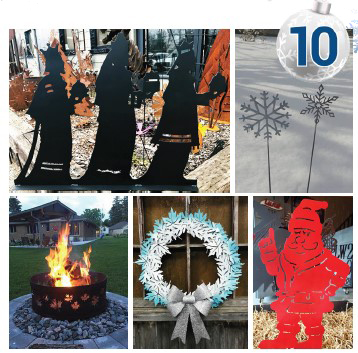 CELEBRATE THE SEASON with hand-crafted metal art made in our local fabrication shop. Think Christmas trees in a variety of sizes, massive pine cones, snowflake pics, nativity scenes, wreaths and lots more to adore!
GIFT FRIENDS, FAMILY & YOURSELF with metal art for outside and inside spaces. Wall art, inspirational messages, nature scenes, welcome signs celebrate interests, seasons and much more.
ENHANCE OUTSIDE SUMMER SPACES. We have fire rings in a broad selection of designs – wildlife scenes, moon & stars, flames, sports motifs are a few of the options. We can custom design one just for you that is bound to be a conversation piece round the fire pit! Add metal sculpture to your flower gardens with dragonflies, fairies, flowers, bird and other delights.
BRING YOUR VISION/IDEA and we will make it

 reality, working with you in the design process from

 start to finish. Check out theironbarn.wordpress.com to see some of our custom work.
519-238-6369
ironbarn.ca
Fri. Nov. 15, 10 am – 9 pm
Sat. Nov. 16, 10 am – 9 pm
Sun. Nov. 17, 10 am – 5 pm
Check website for winter hours.