7143 Forest Rd., Plympton-Wyoming (minutes from Forest & Northville)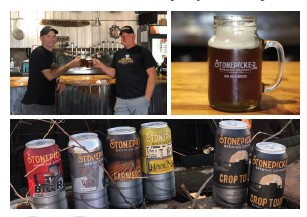 WHAT DO YOU GET with a bucket used for picking stones, an old turkey burner, water, hops, yeast and malt? The origins of a new craft brewery that is rapidly expanding its beer selection and its fan base!
OUR BEER ROCKS is the Stonepicker Brewing Company
motto! Owned by two local farm families, the brewery now
produces a variety of beer, including lagers, stouts, IPAs
and seasonals.
THERE IS ACTUALLY A REAL TRACTOR ON THE WALL behind the bar – a conversation piece while tasting the brew and having fun with your friends.
Check them out on Facebook and Instagram for hours and special music and food events!


stonepickerbrewing.com