6-23 Main St. W., Grand Bend (enter off Queen St.)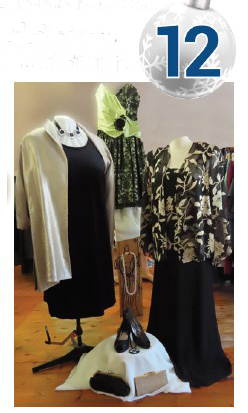 TREASURE THE PLEASURE of discovering this welcoming, upscale consignment shop with an eclectic mix of décor, jewellery, and clothing from Size 0 to 5X. From bedtime to party time, casual to elegant, fashion forward to vintage, we source fine quality new and gently-used items to update your wardrobe at a fraction of original prices.
DRESS ELEGANTLY FOR THE SEASON'S PARTIES or for Gala Nights on an upcoming cruise. Opt for the latest shoe styles or evening bags. Choose designer fashions from brands like Joseph
Ribkoff or Simon Chang, one-of-a-kind dresses or an unexpected find.
226-688-9342
Fri. Nov. 15, 10 am – 5:30 pm
Sat. Nov. 16, 10 am – 5:30 pm
Sun. Nov. 17, 10 am – 4 pm
WINTER HOURS:
Wed. Thurs. Fri. Sat. 10 am – 4 pm