While the 2019 homes are being prepared and decorated please look over the 2018 homes again.
2018 Grand Bend Holiday Home Tour homes
Carefree Living on Sunrise Lane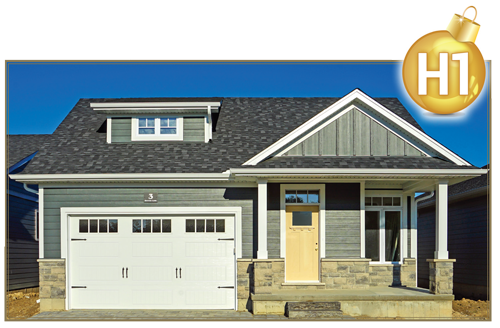 3 Sunrise Lane, Harbourside Condominiums
Welcome to this beautiful new condo in the thoughtfully designed neighbourhood of Harbourside Condominiums. Built to exacting standards by Medway Homes, this detached condo offers exceptional quality and comfort. The home features an open-plan kitchen with custom crafted cabinetry, granite countertops and storage pantry, perfect for those who love to cook and entertain. The spacious great room showcases a charming gas fireplace for a touch of warmth on those chilly evenings. The master bedroom boasts a luxurious ensuite, while the second bedroom or den has a full guest bath. The optional finished lower level has plenty of room for family and friends with two additional bedrooms, three piece bath, spacious family room and extra storage space. Life is good on Sunrise Lane.
PRESENTING SPONSOR: Medway Homes Inc.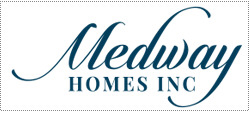 At Medway Homes, we don't just build houses – we build homes; designs feature classic architecture, intelligent floor plans and exceptional quality. We are passionate about providing excellent value, superior craftsmanship and personalized customer service from start to finish.
P.O. Box 89, Arva, ON N0M 1C0
519-238-5632 • pittao.com
DECORATED by:
Studio120 Building & Decor Solutions

10176 Sandalwood Cres., Grand Bend hblackburn.studio120@gmail.com • 519-872-6815
Your resource for artfully guiding you through remodeling and a new design process.
The Garden Gate gifts & florals

55 Main St. E., Grand Bend 519-238-1701 grandbendflowers.com thegardengate.ca
innerurban home

405 Main St., Exeter • 226-423-2233
Home Décor to bring an ordinary space to a level of brilliance!

The First Christmas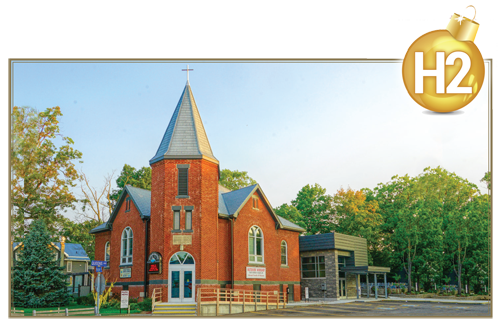 25 Main Street, Grand Bend
The Holiday Home Tour Committee is excited to present a new dimension to the tour this year, with the addition of the newly renovated Huron Shores United Church. Built in 1927, the historic red brick church has been closed since September 2016 to allow for extensive renovations to make the building accessible to all. The Huron Shores congregation's vision was to make the building a welcoming community space, available for concerts, meetings and other gatherings. The addition of a wheelchair ramp, two elevators and a state-of-the-art sound system has made this possible. This will be the first Christmas in the newly renovated space and to celebrate, Huron Shores is hosting a very special exhibit of nativity scenes from around the world. Borrowed from a discerning private collector, the nativity scenes include rare and exquisitely crafted figurines celebrating the first Christmas. The Huron Shores congregation has decked the halls in Christmas finery, with the addition of beautiful plants by Westland Greenhouses. A light lunch will be served at the Huron Shores United Church Cafe throughout the tour weekend.
PRESENTING SPONSORS:
D. Gill Construction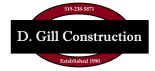 70096 Mollard Line, Parkhill
519-238-5871 d.gill.construction@gmail.com
We are committed to craftsmanship and timeless design. We can make your VISION of the future – a reality TODAY.
Brad Baker Plumbing, Heating, & Electrical

455 Andrew St., Exeter 519-235-1039 • bradbaker.ca
We meet plumbing, heating and electrical needs for residential, industrial and commercial clients. We pride ourselves on quality service and professional workmanship.
PRODUCT SUPPLIED by:
WESTLAND GREENHOUSES Garden Centre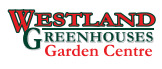 10133 Lakeshore Rd., Grand Bend
519-238-1321
westlandgreenhouses.com
The place to be for Christmas, carrying all you need for Christmas florals and greenery, for indoors and out. Visit us and check out our beautiful aviary with tropical birds. The coffee is always on.
Welcome to Wee Lake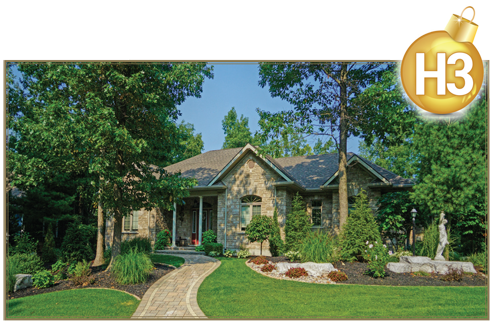 10060 Jennison Crescent, Wee Lake Estates
Welcome to Paul and Faye Van Oss's lovely home in Wee Lake Estates. Nine years ago, the couple began their search for the perfect corner lot to build their home, and were thrilled to find it in the friendly neighbourhood of Wee Lake Estates. Paul and Faye worked with builder Doug Geoffrey to design the elegant home. Stylish and welcoming, the Van Oss home features an open concept with a sunroom leading to the finished lower level and out to the beautiful private backyard oasis. There are multiple decks for outdoor dining, relaxing in the hot tub and enjoying the peaceful gardens. Note the beautiful iron gate that was designed and built by Paul in his workshop. Paul also created the wonderfully unique Christmas trees fashioned from steel piping that light up the yard during the holiday season. This beautifully appointed home features five bedrooms on two levels, allowing plenty of room for visitors. Recently retired from
Welcome Wagon, Faye, along with husband Paul, now has the perfect venue for welcoming family and friends to the couple's beautiful home in Wee Lake.
PRESENTING SPONSOR:
Doug Geoffrey Construction Ltd.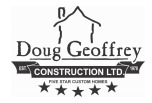 280 Thames Rd. E., Exeter
519-235-2961 • douggeoffreycons.com
Specializing in design/build construction for custom homes and cottages along Lake Huron. We listen to
must-haves and wish lists when working with clients to create quality dream homes.
DECORATED by:
The Garden Gate gifts & florals

55 Main St. E., Grand Bend • 519-238-1701
grandbendflowers.com • thegardengate.ca
A giftware shop with a great selection for everyone. They have you covered, whether it's a birthday, holiday, wedding, new baby, or just because. With a huge selection of cut flowers and tropical plants, The Garden Gate can provide anything you want, and everything you've always dreamed of.
Weekends in the Woods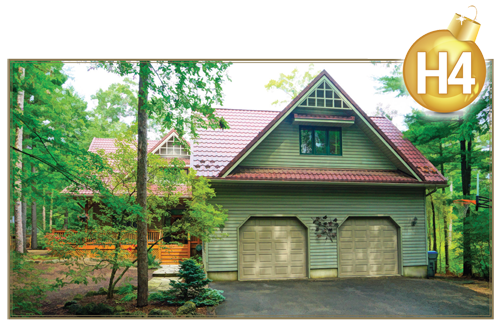 10415 Pinetree Drive, Huron Woods
Welcome to Lisa McEwan's beautiful four season vacation home in Huron Woods. This spacious, light filled home makes a comfortable and casual weekend retreat for Lisa and her family. The home's large eat-in kitchen features natural wood cabinets and huge windows that flood the room with sunshine. Next to the kitchen, the comfortable family room is centred by a rustic stone fireplace that lends warmth to the room on chilly evenings. A large side deck off the family room makes a great outdoor living space with a dining area for al fresco meals. The deck overlooks a sandy recreation area where the family enjoys beach volleyball games and evening campfires. This welcoming home is built for entertainment, with seven bedrooms providing a comfortable space for family and friends. Surrounded by towering oaks and whispering pines, the home is just a three minute walk to the sandy shores of Lake Huron. This is truly a familyfriendly retreat that makes weekends and holidays a breeze for relaxing and entertaining within
the quiet beauty of Huron Woods.
PRESENTING SPONSOR:
hay communications

72863 Blind Line, Zurich • 519-236-4333 • hay.net
Hay Communications is your LOCAL telecommunications provider for internet, security, television, cellular and telephone. We offer service from Grand Bend to Exeter and Zurich and surrounding areas.
DECORATED BY:
Lakewood Garden Centre

72856 Bluewater Hwy, St Joseph 519-236-4479 • lakewoodgardencentre.com
Peggy Darling has created a charming Christmas display with unique holiday items from Lakewood Garden Centre. Visit their Christmas Shoppe and enjoy the wonder and magic of the season.
At Home with Nature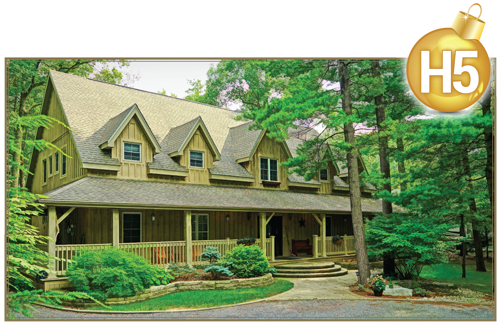 8777 Timberwood Trail, Deer Run
Welcome to Shawn and Allyson MacCormack's beautiful home on Timberwood Trail. Built in 2000, this spacious two-story post and beam home sits on a large, beautifully wooded lot surrounded by mature trees. Stepping from the wraparound front porch into the foyer, the first thing you'll notice is the soaring cathedral ceiling finished in natural pine. The main floor living area features hardwood floors and is centred by a large, wood burning stone fireplace. The kitchen showcases solid wood cabinetry and a gorgeous pine ceiling. Unique Tiffany style lamps light a granite-topped centre island. The spacious, main floor master bedroom has a beautifully appointed ensuite and a fabulous, professionally-designed closet. A solid pine staircase leads to the open loft that houses an office and lovely guest bedrooms furnished in rustic pine. After living in their new home for 1 ½ years, the couple is truly feeling at home with nature in the quiet, peaceful and friendly surroundings of Deer Run.
PRESENTING SPONSOR:
BeaR CreeK Woodcraft & Cabinets

6994 London Line, Watford • 519-849-6932
Our specialty is custom kitchen and bathroom cabinetry for the residential market. We work with clients  from design to finish to create their vision.
DECORATED by:
Green Bucks Christmas Store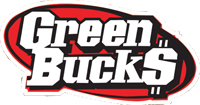 99 Ontario St. S., Grand Bend 519-238-5058
Your one stop shop for all your holiday decorating needs!