These are our 2017 Grand Bend Holiday Homes
Your ticket allows you to visit each home once. Please remove shoes while in the home (shoe bags provided). Children must have a ticket and be accompanied by an adult. Parents are responsible for their children. Please obey parking attendants at each home. No photographs please.
The Lure of the Lake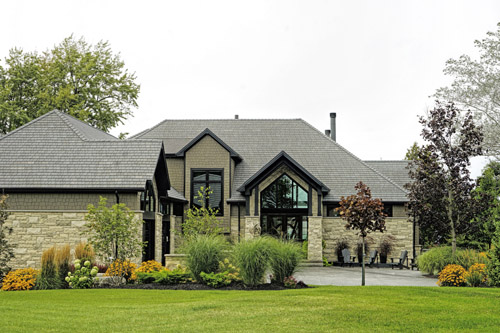 33937 Turnbull's Road, Turnbull's Grove
Fred and Shelley Van Osch welcome you to their lakefront dream home in Turnbull's Grove. In 2003, the couple purchased a cottage on Lake Huron and developed a passion for lakefront living that led to the design and building of their stunning new home. The first step was contacting Oke Woodsmith, whose designers worked with the couple to create a unique, contemporary space with rural touches that pay homage to Fred's agricultural roots. Living next door throughout the construction, the couple was able to provide valuable input as the new home took shape. The result is a spacious, welcoming home that is custom-made for the enjoyment of the Van Osch family. Commanding windows allow for breathtaking views over the expanse of Lake Huron. The grand entranceway features striking double doors with the family's initials incorporated into the custom design. The award-winning kitchen showcases white and espresso cabinetry and white marble countertops, framed by five large windows taking in the majestic lake views. The living space next to the kitchen features an immense wood-burning fireplace. Fred designed many elements of the home, including the distinctive three-season entertainment area with indoor/outdoor kitchen and rustic stone floor that continues outdoors to the lake. Other unique touches of the home include a stone archway to the wine cellar and wood beams fashioned from reclaimed barn beams from the family's heritage barn.
PRESENTING SPONSOR: Oke Woodsmith – okewoodsmith.com
Since 1984, design/build company Oke Woodsmith has partnered with clients from design through completion of a project. We believe outstanding results start with good planning and a keen grasp of how our clients live in their homes.
DECORATED BY: The Garden Gate GIFTS & FLORALS – thegardengate.ca.
The Garden Gate is a floral and giftware shop with a great selection for everyone. We have you covered whether it is a birthday, holiday, wedding, new baby or just because. With a huge range of cut flowers and tropical plants, The Garden Gate can provide anything you want and everything you've always dreamed of.


Coastal Lifestyle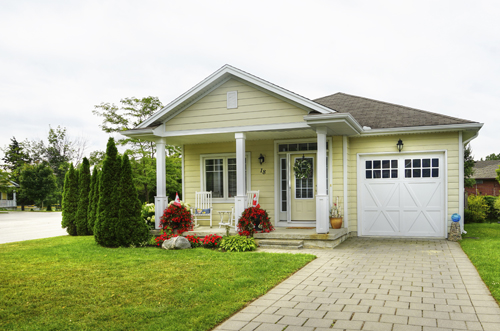 18 Village Gate, Village Gate Subdivision
Betty and Ed Nuttall welcome you to their compact, light-filled home in Village Gate. The couple, who recently downsized from a much larger home on the lake, finds the size and location of their new place perfect for their retirement lifestyle. Betty appreciates the short walk to the shops and beach from her new neighbourhood. The couple brought the spirit of the lake to their new home by choosing a palette of calming blues and tans in their coastal décor. The smaller space meant making some tough downsizing decisions, but the couple knew they couldn't part with certain treasured family heirlooms. Betty's mother's tea wagon has found a new place of honour in the living area and has been given a fresh new look with white chalk paint to match the lighter colour scheme. The owners enjoy the bright and airy feel to the combination kitchen and living area at the back of the home, which features large windows overlooking a relaxing deck and gardens. The kitchen was recently remodeled with fresh white cabinetry by Cottage to Castle, who also finished the lower level, adding a family room, bathroom and extra bedroom to accommodate family and guests.
PRESENTING SPONSOR: Cottage to Castle  cottage.to.castle@hotmail.com
Cottage to Castle specializes in designing and building handcrafted cabinetry to suit your lifestyle. From custom kitchens, bars, vanities, and entertainment centres, to closet storage and more, we turn visions into reality with pride and craftsmanship.
DECORATED BY: Lakewood Garden Centre lakewoodgardencentre.com
Lakewood Garden Centre and Christmas Shoppe invites you to celebrate the wonder and magic of the season! Peggy Darling creates a warm and cozy display, using creativity and unique items from Lakewood. For all your Christmas wishes, visit Lakewood Garden Centre on Hwy 21 in St Joseph.

Creative Charm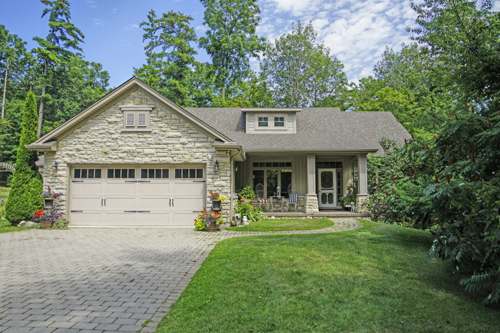 10176 Merrywood Drive, Merrywoods Subdivision
Erryn Shephard welcomes you to her charming home in Merrywood Meadows, where she lives with Hari, her handsome golden retriever. Medway Homes built the home as a model seven years ago and Erryn has been the proud owner since that time. The spacious, open concept home is the perfect showcase for Erryn's wonderfully eclectic collection of primitive antiques and textiles. A talented rug hooker, Erryn proudly exhibits her own handiwork in the beautiful rugs and wall hangings on display throughout the home. As chef and owner of F.I.N.E. A Restaurant in Grand Bend,
Erryn appreciates the well-appointed kitchen with rich cherry cabinetry and large granite-topped centre island.
Antique display cabinets showcase her collection of pewter and vintage tableware. The cozy living area next to the kitchen features a unique indoor/outdoor fireplace that adds comfort and charm both indoors and on the furnished backyard deck. The dining area, with its expansive rustic table, is set for great meals and conversation. Medway Homes fi nished the lower level which features more of the owner's whimsical collection of primitive décor. The double French doors leading into a spacious guest suite were salvaged from the restaurant after a renovation. A second bedroom and relaxing living area with grand fireplace complete the cozy lower level.
PRESENTING SPONSOR: Hay Communications hay.net
Hay Communications is your LOCAL telecommunications provider for internet, security, television, cellular and telephone. We offer service from Grand Bend to Exeter and Zurich and surrounding areas.
DECORATED BY: primitive Creek primitavecreek.net
Primitive Creek is a unique colonial giftware store in beautiful downtown Seaforth. We specialize in seasonal home décor as well as lighting, textiles, kitchen items and unique ladies fashion and jewelry. Come check us out!


Contemporary Redsign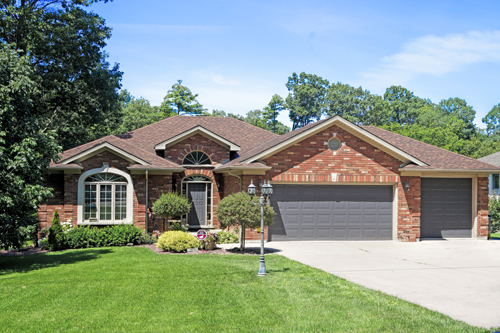 10122 John Street, Pinedale Subdivision
Joe Boyle and Beth Sweeney welcome you to their newly-renovated home in Pinedale Subdivision. The couple purchased the red brick ranch-style home in April 2017, with the intention of redesigning the space to suit their tastes and lifestyle. They contracted Medway Homes to completely gut and renovate the 16-year-old home. They were pleased to enlist the services of several local renovators and designers in updating the home and giving it a fresh and contemporary new look. The owners note that it was important to them to use local talent in the makeover of the home. Renovations included interior design work, new flooring and furniture, custom artistic metal work, and custom window treatments. All the work has been done by local suppliers – contact material is available at the home during the tour. The result is a stunning new look in contemporary greys and whites with natural live wood accents. The airy, open concept space is perfect for entertaining family and friends. The home formerly had three bedrooms, but the redesign has given them four, providing the couple with plenty of room for overnight guests. With the Old Ausable Channel flowing peacefully behind their home, Beth and Joe enjoy canoeing downstream to Pinery Provincial Park, and are looking forward to ice skating on the frozen river once winter arrives.
PRESENTING SPONSOR: Sutton Select Realty soldongrandbend.com
"Your Huron Shoreline Representatives" With over 50 years of combined local Real Estate experience, top-of-the-line marketing and proven results, your satisfaction is guaranteed!!!

DECORATED BY: The Garden Gate Gifts and Florals thegardengate.ca
The Garden Gate is a floral and giftware shop with a great selection for everyone. We have you covered whether it is a birthday, holiday, wedding, new baby or just because. With a huge range of cut flowers and tropical plants, The Garden Gate can provide you anything you want and everything you've always dreamed of.


Windows on the Woods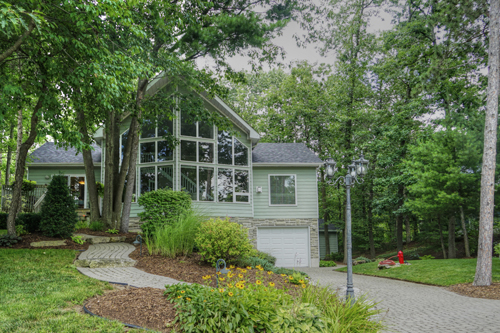 10071 Jennison Crescent, Wee Lake Subdivision
Jim and Christine Mann welcome you to their beautiful vacation home in Wee Lake Subdivision. They have enjoyed this stunning Viceroy home since 2004, when it was built by Bob and Joe Tucker. Christine's favourite spot in the house is the spacious living area with its soaring high ceilings and floor-to-ceiling windows that overlook beautiful mature trees. The soothing, neutral colours and textures in the home bring the woodsy palette of the outdoors inside. With three levels, the home has plenty of room for frequent visits from family and friends. The centre staircase leads to the loft where the grandchildren have their own space to enjoy their toys and books. The lower level features a bar where visitors will enjoy mementos from Jim's 38-year career with the Middlesex Centre Fire Department. This level has a walkout to the beautifully landscaped yard with custom outdoor fireplace for those chilly evenings. Be sure to check out the working fire hydrant by the driveway, a tribute to Jim's days as Delaware's Fire Chief. Zurich's Cobble Design and Proscape Horticultural Service from Delaware have created a
charming entrance with brick driveway, steps and large landscape rocks, welcoming visitors to come and relax
in beautiful Wee Lake Subdivision.
PRESENTING SPONSOR: MacLachlan Insurance hmsinsurance.com
MacLachlan Insurance is an independent Ontario insurance brokerage representing several leading insurance companies. This means you get the best value for your insurance – for your house, apartment, life, car, farm, business or travel.
DECORATED BY: Willow Valley on Main willowvalleyonmain.com
Willow Valley on Main Fashion Boutique in Exeter carries home and garden furniture and accessories for all seasons. They offer interior design services and carry a beautiful selection of ladies fashions.
DECORATED BY: Westland Greenhouses westlandgreenhouses.com
Westland Greenhouses is the place to be for Christmas, carrying all you need for Christmas for in and outdoors.
Check out the beautiful aviary with tropical birds.