These were our 2016 Grand Bend Holiday Homes
Your ticket allows you to visit each home once. Please remove shoes while in the home (shoe bags provided). Children must have a ticket and be accompanied by an adult. Parents are responsible for their children. Please obey parking attendants at each home. No photographs please.
Carefree Condominium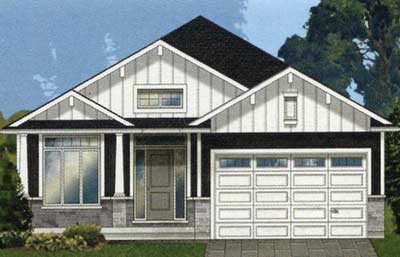 40 Sunrise Lane, Grand Bend
Built by Medway Homes, this new, detached condominium home is shown in its full Christmas splendor. Designed for carefree living, the home features a gracious one floor, two bedroom layout. This home is the first of 37 new homes scheduled to be built as an extension to Harbourside Village.
Carefree Beach Living
This condominium home is an ideal solution to those looking for carefree beach living. Medway's custom-crafted homes are perfect for casual summer entertaining and get-togethers to Christmas family gatherings. All Harbourside Condominium homes include an open-plan kitchen with custom-crafted cabinetry, granite countertops, pantry and premium finishes. The kitchen and dining area overlooks a spacious great room with gas fireplace. The master bedroom boasts a luxurious ensuite and the second bedroom or den has a full four-piece guest bathroom. The home's lower level has been finished to showcase a number of options, including two additional bedrooms, three-piece bathroom, spacious family room, extra storage space and utilities area.
Paul Pittao of Medway Homes extends a warm welcome at Harbourside Condominiums.
Presenting sponsor: Medway Homes Inc. –  harboursidevillage.com
Decorated by: Lakewood Garden Centre – lakewoodgardencentre.com. Peggy of Lakewood Garden Centre's Christmas Shoppe is pleased to bring out the beauty of this home. Using unique items found at Lakewood, this home will be warm and inviting to visit. For all your Christmas dreams, visit Lakewood Garden Centre on Highway 21 in St. Joseph.

An Elegant Beach Home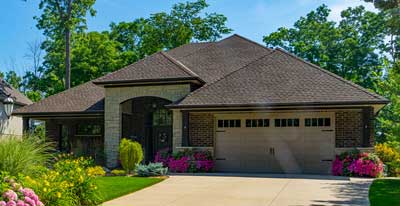 10152 Merrywood Drive,  Grand Bend
Robert and Beverly Kennedy welcome you to their elegant beach home in Merrywood Meadows. The lovely stone and brick exterior sits in harmony with the other Merrywood homes.  Open, spacious and stylish, the home was custom built by Paul Pittao of Medway Homes to showcase the couple's extensive collection of fine art.
Stylish Interior Showcases Fine Art Collection
The spacious and inviting front hall leads to a well appointed living room and the kitchen displays a stunning granite-topped island. A comfortable and bright sunroom sits next to the kitchen overlooking a beautifully landscaped back yard. The spacious, yet cozy lower level enjoys a welcoming gas fireplace and a wall of windows leads to the private outdoor patio.  Note the beautiful custom stained glass panel depicting an eagle, representing strength and determination, a motif in the Kennedy family.  Visitors may notice a brass plaque by the front door stating "Good Thoughts Always", the Kennedy family motto for over 30 years.  It is a fitting welcome to this elegant home in Merrywood Meadows.
Presenting sponsor:  Sobeys Grand Bend
Decorated by: Garden Gate Gifts and Florals – thegardengate.ca. The Garden Gate Gifts and Florals, established in 2007, has earned a stellar reputation for the creative work of its designers, attention to floral trends, passion for the job, and expertise and knowledge of design and florals.  The full service flower shop, whose creative work has been showcased in wedding magazines, offers a unique shopping experience with gifts for all occasions, home décor ideas and floral arrangements that are as individual as the person who orders them.
Outdoor Décor by Grand Bend RONA – rona.ca. Grand Bend RONA is owned and operated by Kevin and Kim Davies for the past 9 years.  We supply the Grand Bend Area with everything from bird seed to plumbing and electrical, lumber and SICO paint. We offer services such as key cutting, screen repair, and fishing licences.

Welcome to Southoke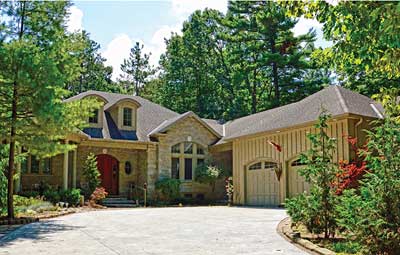 10121 Shoreline Drive, Southcott Pines, Grand Bend
Jim and Jacquelyn Southcott welcome you to 'Southoke'. This home is nestled in the midst of the Carolinian Forest in Southcott Pines and was designed and built by Brad Oke of Oke Woodsmith Building Systems in 2005.
The main floor, open-concept design features a great room/kitchen for easy entertaining and a separate dining room. A self-contained lower level for visiting family and friends boasts home theatre and games room.  Engineered hickory wood flooring is used throughout the main living areas and warmed by radiant in-floor heating. 'Southoke' is constructed of insulated concrete forms right to the rafters.
High ceilings, curved walls and staircase and large banks of windows are the trademarks of this home, flooding interior spaces with natural light and making it feel part of its treed surroundings.
The home's exterior is finished in textured grey stone and pine board and batten siding with a round covered front porch and upper and lower decks at the rear.  Recent additions include a sunken flagstone patio and swim spa.
The Southcotts welcome you to their beautiful home in the woods.
Presenting sponsor:  Waypoint Financial Group Inc. – waypointfinancial.ca
Decorated by Bittersweet – bittersweetgrandbend.com. Bittersweet is a quaint home and garden décor store owned and operated by a mother/daughter duo.  We carry a wide range of vintage, primitive and rustic décor along with two beautiful lines of furniture paint.  We love to recreate pieces for sale using our Fusion Mineral Paint and Van Gogh Fossil Paint.  We are passionate in helping people create a warm and inviting atmosphere in their own homes and cottages, incorporating their own treasured pieces.
We were proud to be featured in the March/April issue of Lifestyle Magazine.

A Country Christmas in Huron Woods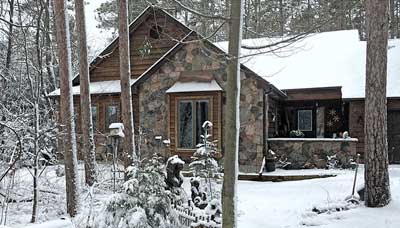 9944 Riverview Road, Huron Woods, Grand Bend
Bill and Ginger Weber welcome you to their home in Huron Woods. The exterior of this lovely home is a combination of natural stone and cedar wood that naturally fits into rare the Carolinian forest surroundings – as if it was always there.  In fact, the home was built 28 years ago and the Webers have called it home since 2000.
The woodsy theme continues indoors with knotty pine ceilings and a gorgeous floor-to-ceiling stone fireplace in the great room.  Bill and Ginger are proud of their country roots; both were raised in farming families. This love of all things country is evident in special creative touches throughout the home, including Ginger's beautiful quilts.  The Webers have been collecting memorable Christmas pieces on their travels over the years and have an extensive collection of Boyds bears, holiday glass décor and handcrafted, wooden snowmen made by Ginger and her father.  What could be more inviting than a country Christmas in beautiful Huron Woods?
Presenting sponsor: Hay Communications – hay.net
Florals by: The Garden Gate Gifts and Florals – thegardengate.ca. Garden Gate is providing the fresh floral arrangements in the Weber home.
Outdoor Décor by: Ailsa Craig Home Hardware and Mitchell's Home Hardware Building Centre homehardware.ca
Ailsa Craig Home Hardware, owned by Ron and Sherri Harwood for the last 8 years, and supported by our wonderful staff.  Our services are many, including pipe cutting and threading, screen and window repair, chain saw sharpening and repair.   We have a horticulturalist on staff, and advice is always free.  We offer plumbing, electrical parts, housewares, paint and paint supplies and much more.  Stop by to see what we have to offer.
Mitchell's Home Hardware Building Centre in Parkhill is a full service building centre.  They carry all the outdoor lighting and décor to make your home look its best during the holiday season.

Treetop Retreat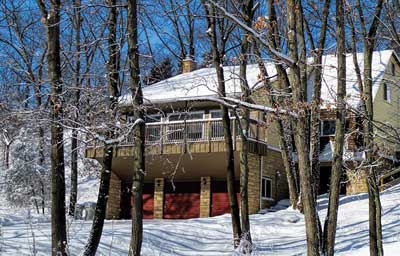 10100 Pinery Bluffs Road, Grand Bend
Stan and Leslie Franjkovic welcome you to their treetop paradise in Pinery Bluffs. Nestled into a high hill backing onto the Pinery Provincial Park, this open concept chalet was designed 37 years ago to be a natural extension of the stunning forest setting. The owners have created a comfortable, welcoming space ideal for relaxing and enjoying nature.
The living / dining space of this spacious home features a wall of windows overlooking the tree tops for a stunning view.  A large, natural stone fireplace graces the room with a built-in sitting area offering the perfect spot to warm up after a day of cross country skiing. Stan and Leslie have chosen a minimalist style to their décor, allowing the natural setting to be their dominant theme.  Unique touches include a walnut countertop in the kitchen.  The upper floor has a spacious living space leading to a private deck nestled into the hill, a perfect spot for a relaxing drink or meal.
Treetop Retreat chalet is available for short term rentals for up to 15 guests looking for a quiet and relaxing retreat.
Pinery Bluffs is a new adult lifestyle community. Nestled against Pinery Provincial Park's borders, the community respectively integrates with the unique oak woodlands and oak savanna habitat that characterize the area.  The community enjoys privacy and seclusion provided by majestic sand dunes.
Presenting sponsor:  Pinery Bluffs Subdivision – pinerybluffs.com
Rental info:  Bluewater Cottage Rentals – bluewatercottagerentals.com
Florals by: Westland Greenhouses – westlandgreenhouses.com. Westland Greenhouses is the place to be for all your Christmas shopping.  We carry all greenery, arrangements, décor and so much more.  Our new sitting area and bird sanctuary is just fantastic. Come to Westland for a complete experience. The coffee is always on!!  Hope to see you. Paul, Anita and staff