Light up Grand Bend information coming soon
Santa's Saga 2020 coming soon


Join us for Light Up Grand Bend in Optimist Park (Main Street East & Gill Road, Grand Bend) at 5:30 pm, Friday, November 15, 2019.
This holiday community event delights children of all ages. While you wait for Santa's grand entrance, enjoy Christmas popular songs and carols sung by the Huron Shores United Church and guest soloists, while volunteers hand out Hot Chocolate and Apple Cider. Enjoy festival horse-drawn wagon rides.
Santa's Saga 2019
by Judy Johnson
photos: Janette Baillie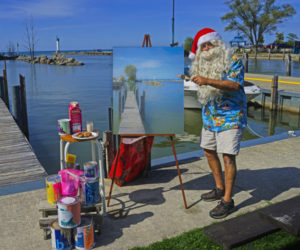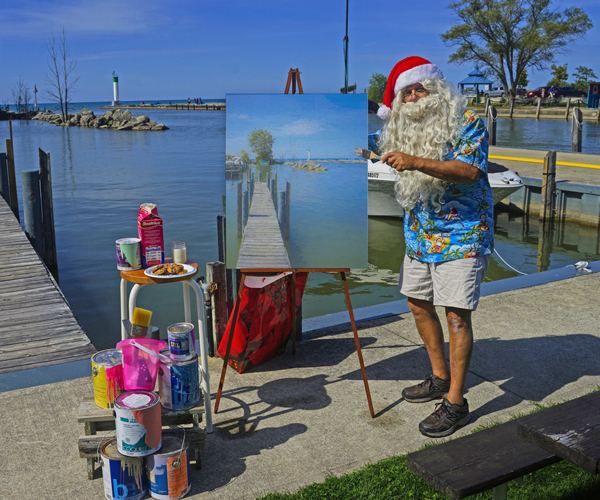 After my success at tracking down Santa on the Main Beach at Grand Bend during his 2018 summer vacation, I searched the area in vain for weeks in July and August this year, looking for the world's best-known Superhero, the epitome of the seasonal worker, Santa Claus himself.
I was enjoying an early fall morning stroll on River Road – getting some exercise while enjoying my morning coffee when I spied the Claus man at the entrance to the marina. Needless to say I could hardly believe my eyes!
There he was! Dressed in shorts and a bright Hawaiian shirt decorated in a design with selfies of the great man. He was standing before an easel, having almost finished a large painting of the river and Lake with the lighthouse and pier.
Everything Santa does is larger than life, so I shouldn't have been surprised to see that instead of the usual small palette and brushes, he was using quart and gallon paint tins and large brushes to produce his masterpieces. He worked with great patience, stopping frequently for a sip of milk and a chocolate chip cookie. Apparently they were his muses.
I took a chance and walked right up to him; I introduced myself, although he has known me for decades, since I was a wee girl with a Christmas list that always included a pony. News alert: no pony ever arrived!
He was gracious in answering my blurted-out question about what he was doing painting of all things. Was this a new hobby or something he had been doing for years? He explained that he studied with some of the great European artists – he liked how Rembrandt used light, how Van Gogh used vivid colours, how Monet captured subtle shades of water. It made my head spin, until I realized that of course Mr. Claus had been around for centuries and would have had unimaginable access to the giants of canvas, paint and brush.
Explaining that art has always been incredibly important as a source of centering and recharging in his life, he said he simply parks the sleigh for the whole month of September for some R & R. This year he gifted Mrs. Claus a month-long luxury cruise in Northern Europe; it was a bit of a busman's holiday since she was going to check out some young reindeer in the northern reaches of Finland. He blew Rudolph's nose that got redder by the minute when the star sleigh leader learned his master would be out of sight for thirty days – then Santa headed due south to his favourite vacation spot, Grand Bend.
Apparently he has no intention of having an exhibition of his work; the explanation I was given that he feels people would be so anxious to get one of his originals that there could be too much excitement and large, curious crowds. He felt that his hobby would get more attention than his important life's work of bringing the magic of the holiday season to children of all ages far and wide.
He savoured his last cookie, took a last sip of milk and packed up his painting paraphernalia, loading it carefully into a shiny, bright red pickup. "Love the 420 horsepower on this machine – a far cry from travelling with 9 reindeer. Plus those critters make more annoying comments than a GPS with voice commands when you make a few wrong turns!" Then he winked.
That last comment made me realize just how much the Claus needed this long vacation to rest and rejuvenate for the frantically-busy holiday season looming on the calendar's horizon.
And just like that, he roared out of sight.
We know that Santa Claus will be back in Grand Bend at Light Up Grand Bend at 5 p.m., Friday, November 15, 2019 at the Optimist Park (Main St. East & Gill Road).
Come check out the fabulous holiday lights, hot chocolate and cider, Jamie Baldwin – the Skateboarding Fiddler, horse-drawn wagon rides and seasonal good cheer! And take a good look at Santa's waistline – I thought it looked as if he had lost a couple of pounds in that summer photo!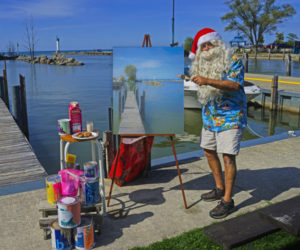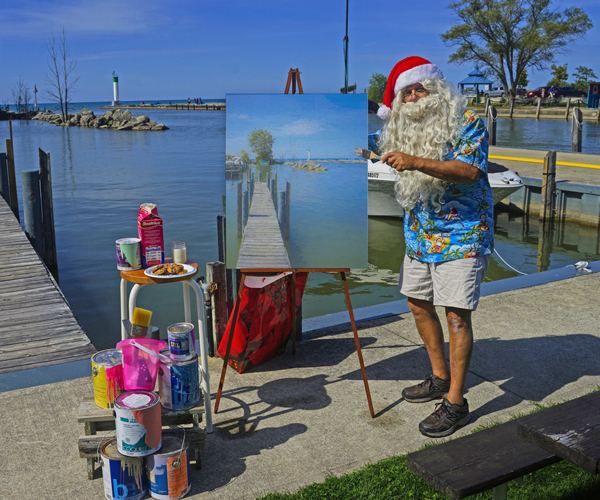 UPDATE: Santa emailed me once he got back to the North Pole to let me know how much he enjoyed the sunny days, the beach and painting scenes of the harbour. His wife was ecstatic to see him and brought him a Finnish souvenir of Sauna Bucket & Ladle, an ideal gift since over 40% of Finns own a sauna. He plans to frame one of his paintings and surprise Mrs. Claus with it on Christmas Eve, just before he climbs into the sleigh, after giving a pep-talk to the reindeer, calming down Rudolph so he doesn't get super-hyper, overshoots Planet Earth and gets lost in the Milky Way.
Something tells me Santa will be this way again next summer or fall. It's top of his vacation list!