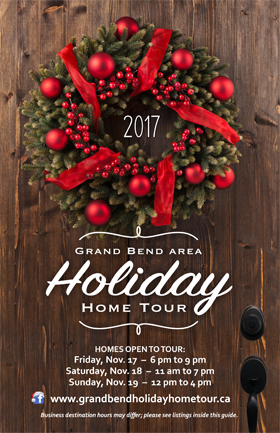 WELCOME TO THE 2017 GRAND BEND AREA HOLIDAY HOME TOUR
You have the opportunity to visit five private homes all decked out for the holidays. We hope you enjoy the tour. In addition, there are twenty-four other destinations to explore and provide inspiration for your holiday decorating, gift-giving and entertaining. Your ticket is good for one visit to each home throughout the weekend.
Tickets are not required to visit the non-home destinations. Please check the info in each destination ad for visit details, including opening hours.
Your support of this tour goes to assist four worthy organizations for their activities as you will see below. On behalf of all these groups, we thank you for your attendance. This project would not be possible without the generous help of the homeowners. Opening their homes for the Grand Bend Area Holiday Home Tour is just one more demonstration of the willingness of people to help develop a better community; this is what makes the Grand Bend area such a special place.
We owe many thanks to the florists, decorators, sponsors, volunteers and all the unsung heroes who put many hours into creating this wonderful experience for all. Best wishes for a
HAPPY HOLIDAY SEASON!
BENEFITING ORGANIZATIONS
The Jingle Bells Group
Our Lady of Mount Carmel School
The West Coast Lions Club
Huron Shores United Church
THE JINGLE BELLS GROUP is comprised of folks from Grand Bend & Area Chamber of Commerce as well as from other area businesses and charitable groups. Our mission is to illuminate the core area with lighting, vignettes, greenery, etc. Each year we make even more good things happen! Funds from the 2017 Grand Bend Area Holiday Home Tour will help provide pole lighting on main thoroughfares. Join us for Light Up Grand Bend – Optimist Park 6:00 p.m. Friday, Nov. 17
OUR LADY OF MOUNT CARMEL SCHOOL will use funds raised for current and future projects. The 125 students in this rural school will benefit from technology improvements provided by the helping hands of these monies.
THE WEST COAST LIONS CLUB is delighted to be involved for another year with the Grand Bend Area Holiday Home Tour. Funds raised will go toward providing voluntary service for community involvement, charitable projects and international cooperation. Where there's a need, there's a Lion!
HURON SHORES UNITED CHURCH in Grand Bend is continuing the renovation and addition to its historic 1927 site. A beautiful new roof, an impressive steeple and a bell, transported from Scotland, add to its charm. Summer services are held outdoors. All are welcome.
HOME TOUR PROCEDURE
The homes can be visited in any order throughout the weekend. Your ticket allows you to
visit each home once. Please remove shoes while in the home (shoe bags provided). Children
must have a ticket and be accompanied by an adult. Parents are responsible for their children.
Please obey parking attendants at each home. No photographs please.