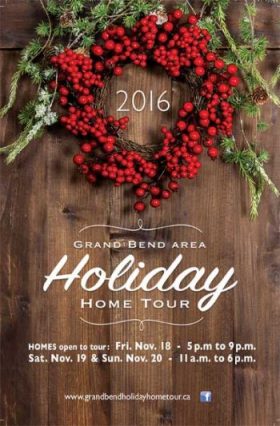 We hope you enjoy visiting the Grand Bend Holiday Home Tour's five homes decorated for the holidays. As well as the homes, there are fifteen other seasonal destinations to explore. These destinations will inspire your holiday decorating and entertaining.
Your ticket is valid for one visit to each home throughout the weekend. Tickets are not required to visit the non-home destinations.
Your support of the Holiday Home Tour goes to these four worthy community organizations.
The Jingle Bells Group
Our Lady of Mount Carmel School
The West Coast Lions Club
Huron Shores United Church
On behalf of all these community groups, we thank you for your patronage.
The Holiday Home Tour would not be possible without the help of the homeowners. We thank the homeowners for the use of their homes. Their generous support is just one more demonstration of the willingness to help develop a better community that makes the Grand Bend Area such a special place.
Many thanks to all the florists, decorators, sponsors, volunteers and unsung heroes who put many hours into making this a wonderful experience for all.
Best wishes for a HAPPY HOLIDAY SEASON!