2016 Destinations below
– 2016 Grand Bend Holiday Home Tour Destinations feature participating local retailers ready to offer you products featured in the homes and available for purchase as well as many other unique, seasonal finds!
Destination: Huron Ridge Acres
74101 Bronson Line, Zurich/Bluewater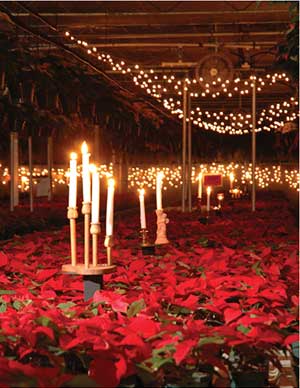 Join us for our 10th Annual Poinsettia Festival & Candlelight Event – "Amongst 8 of the best Christmas light shows in Canada" (wheels.ca). Our family owned greenhouse, Huron Ridge Acres, invites you to celebrate the season on November 17 – 19, 24 – 26 and December 1- 3 from 12 – 8 pm each day. It is a wonderful way to start this special time of year! Sip a hot drink while enjoying thousands of poinsettias in many varieties and hues grown right here at Huron Ridge. The vibrant colours of poinsettias by daylight become a cozy and inviting space by candlelight. Shop from our selection of Christmas trees, fresh greens, wreaths and decor.
519-565-2122 | huronridge.ca
Destination: Hayter's Farm
37467 Dashwood Rd., Dashwood

Harry Hayter began raising turkeys on this farm in1948. Over 65 years and 3 generations of family farming later, Hayter's turkeys have always run freely in spacious open-sided barns. Best practices in animal care and the highest level of quality control from start to finish make us a trusted brand. Our fresh farm to fork turkey is delicious, nutritious and good for the local economy and environment too. Products at Hayter's Farm retail store include: boneless roasts • gluten free sausages & burgers • schnitzel • marinated fillets • lasagna • meatloaf • deli items & unique sauces. On the Holiday Home Tour weekend only receive a free shopping bag when you order your fresh turkey for the holiday season ahead!
519-237-3561 | haytersfarm.com
Retail store open Monday to Saturday 9am – 6pm and Sunday 11am – 4pm.

Destination: Stone House Brewing Company
76050 Parr Line, Varna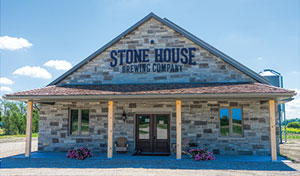 Experience a local craft brewery near Bayfield.Taste the clean finish and distinctive flavour of beer brewed with Czech Saaz hops, Canadian two-row malted barley and water from a 250-foot-deep well. Drop in to discover what many are raving about. Take home a "little brown jug", a Growler that holds 64 ozs. or 1.89 liters. Book a Tour and Tasting event with STONE HOUSE BREWING COMPANY to try their Pilsner.
519-281-1167 | stonehousebc@tcc.on.ca. | Space is limited. | Details at stonehousebrewing.ca.
Mon. Wed. Thurs. 11am – 6pm | Fri. & Sat. 10am – 7pm | Sun. 10am – 5pm
Destination: Coastal Coffee Company
17 Goshen Street North, Zurich

Visit Coastal Coffee in the heart of Zurich to discover the delicious difference that small-batch, artisan freshly-roasted beans make for your cup of coffee! Beans with traceable pedigrees are sourced from family coffee producers in Nicaragua, Colombia, Rwanda, Brazil, Burundi, Guatemala and Panama. Enjoy tastings of superb specialty grade coffees that have earned coveted Cup of Excellence awards. Open Wednesday to Saturday year 'round.
coastalcoffeecompany.ca | 519 – 671 – 4118
Fri. Nov. 18 & Sat. Nov. 19 8am – 4pm

Destination: Lakewood Garden Centre
Hwy. 21 at St. Joseph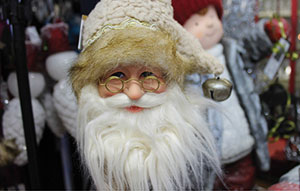 Discover Christmas at Lakewood Garden Centre in St. Joseph! Our Christmas Shoppe is a favourite destination for all your holiday needs. From elegant to rustic, we have something for everyone. Great gifts, fresh greens, unique decorating items and fun additions for your home. Plus top quality artificial trees and fresh cut Fraser fir Christmas trees, starting at $34.99. COME , ENJOY, EXPLORE!
November workshops at lakewoodgardencentre.com | 519- 236-4479
Fri. Nov. 18 and Sat. Nov. 19, 9am – 5pm Sun. Nov. 20, 12 noon – 5pm
Destination: Oakwood Resort
70671 Bluewater Hwy., South Huron

Steps away from the shores of Lake Huron, guests at Oakwood Resort enjoy private access to world-famous sunsets on a white sandy beach. Find out why visitors return year after year. There is something for everyone at Oakwood Resort – our relaxing accommodations, 18 Hole Par 70 golf course, 2 restaurants and full service Lakeside Spa. The resort is located 1.6 km north of Grand Bend on Hwy #21, and features 126 rooms, suites and cottages with a capacity for 250 guests. Our wedding facilities provide bridal couples access to a complete range of wedding services in one location. Contact us about hosting your next corporate meeting or family celebration in one of our many meeting rooms or dining areas. Any season, any reason, Oakwood Resort is open year-round. Visit us online for information about our Theatre, Girls' Getaway, Stay & Play, Bed & Breakfast and Special Events packages. Oakwood Resort is pet-friendly, ask for details.
oakwoodresort.ca | 519-238-2324 | 1-800-387-2324
Destination: Schoolhouse Restaurant
19 – 81 Crescent Street, Grand Bend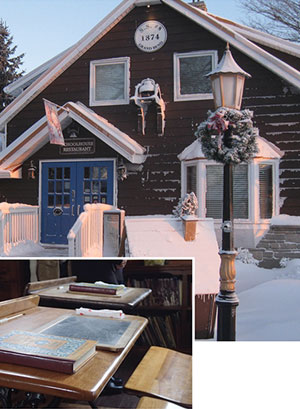 Nestled on a wooded lot by the river, the Schoolhouse Restaurant welcomes you into the historic 1874 Grand Bend Public School. Peruse photos and memorabilia from the era when kids toted a honey pail lunchbox …where over 140 years later you can enjoy fine cuisine. A varied menu includes Old School Favourites, breakfast options until 4 p.m., two or three course Prix Fixe dinners (small or large) and desserts that even the strictest schoolmarm would give top marks! Chef/Owner Gus Merkies has been cooking for more than 30 years, in Europe and Canada. His cookbook, Cooking with Gusto at the Schoolhouse Restaurant, shares stories of life working in a kitchen and Schoolhouse Restaurant recipes.
grandbendschoolhouse.ca | 519 – 238 – 5515
Fri. Nov. 18, 9am – 8pm | Sat. Nov. 19 & Sun. Nov. 20, 8am – 8pm
Destination: The Creative Eye Art Exhibition
63 River Road, Grand Bend

Grand Bend artists invite you to a group show of original, one a of kind artwork. Come and view fine art in oil, pastel, watercolour and acrylic paintings, photography, glass and wood turning. This is an opportunity to purchase some unique gifts. In the Sunset Arts Gallery you'll find festive decorations for the holidays.
Friday Nov. 18th 5pm – 9pm | Sat. Nov. 19, 11am – 6pm | Sun. Nov. 20, 11am – 6pm.
Destination: F.I.N.E. A Restaurant
42 Ontario St. S., Grand Bend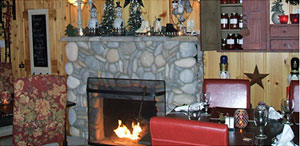 Discover why diners say that F.I.N.E. lives up to its name! The warmth of wood, a fieldstone fireplace and creative Christmas décor welcomes you to F.I.N.E. A Restaurant, where casual fine dining is the order of the day. The dining room displays fine art from local artists. Chef/Owner Erryn Shephard and Chef Ben Sandwith each have extensive experience both in Canada and the U.S. Innovative menu items showcase regional cuisine and specialties such as Christmas-themed desserts for the holiday season. Catering and take-out are available. Seasonal hours. Because of the intimate dining room size
and F.I.N.E.'s popularity, reservations are recommended.
519-238-6224 | finearestaurant.com
Fri. Nov. 18 & Sat. Nov. 19, 12 noon – 2pm for Lunch, 5pm – 8pm for Dinner | Sun. Nov. 20, Dinner only 5pm – 8pm

Destination: Green Bucks Dollar Discount
91 Ontario Street South, Grand Bend

STRETCH your Christmas budget at Green Bucks, your one-stop, affordable holiday supplies store. STOCK UP on tiny to super-sized gift bags (we have over 5,000 in stock!), cards, bows, tissue, wrapping paper and Christmas-themed boxes. Holiday entertaining is a breeze with disposable plates, cups, napkins and tablecloths in a broad assortment of colours and patterns. CHECK OUT stocking stuffers and gift items, including the Crayola line and the newest/hottest items for the holidays. Lights, decorations, Christmas picks, outdoor bows, a warm welcome and much more await you!
519-238-5058
Fri. Nov. 18 , 10am – 5:30pm | Sat. Nov. 19, 9am – 5:30 pm | Sun. Nov. 20, 10am – 5pm
Destination: Smackwater Jacks Taphouse
71 River Road, Grand Bend

HOLIDAY COOKING DEMO – Looking for chef-inspired originality for holiday fare? This is your chance! Smackwater Jacks Taphouse accomplished chef Jill St-Amour shares secrets, tips and tactics to dish up mouth-watering, creative cuisine. Learn and enjoy sampling. The cooking demo is on Sun. November 20. Call Jill for details and to register: 519-238-5556. Space is limited so book early! EAT – Menu choices are creative with an emphasis on quality, locally-sourced ingredients. Enjoy beef, turkey or Portobello burgers. Lake Huron yellow perch and pickerel are favourites, as are top-grade steaks. Gluten-free options are available. DRINK – Open year-round, Smackwater Jacks Taphouse has many local craft beers on tap, as well as bottled and/or canned craft, domestic and imported brews. Draft cider and bottled and canned cider and fine wines are also at hand. BE MERRY – Relax in the casual riverside atmosphere with views of one of the most beautiful sunsets in the world. Pre-select menus are available for groups – for pre-Christmas parties or family milestones. Free shuttle.
smackwaterjacks.ca | 519-238-5556
12 noon until 9pm daily


Destination: Grog's Pub & Grill
8604 Lakeshore Rd., Northville

Find out why first-time visitors become regulars at Grog's Pub & Grill , a mainstay on the Grand Bend-Port Franks beach scene for a long time. Enjoy the pub atmosphere with its large-screen TVs, or use the take-out service – phone ahead and then pick up! This casual eatery has a warm atmosphere that includes a fireplace to welcome you in cold weather. There are menu options for any budget, at any time of year. Enjoy a cocktail, a fine wine or a selection from our 15 taps of draft, including the old time favourites, new craft beers and ciders. Start with the famous Grog's Zaney Bread, a cheese-filled hot appetizer. Pizza is justly touted as must-try, as is our sea food chowder and our popular lime cheese cake! Other great selections are Rib Eye steak, hand pressed burgers, oven baked pastas, Atlantic Salmon and fresh salads. After dinner enjoy a selection from our collection of single malt scotches – 40 scotches to select from, including Canadian, Japanese and all regions of Scotland. Come to Grog's where friends meet!
grogs.ca | 519-243-2770
Open 7 days a week 11am – 10pm
Destination: Westland Greenhouses
10133 Lakeshore Rd., Grand Bend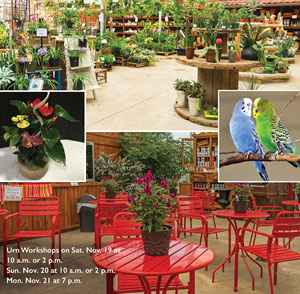 Urn Workshops on Sat. Nov. 19 at 10am or 2pm, Sun. Nov. 20 at 10am or 2pm, Mon. Nov. 21 at 7pm. COME, CREATE, TOUR, SHOP, ENJOY! Westland Greenhouses has Christmas covered…birch, boughs, holly, potted and cut Christmas trees, indoor and outdoor urns and so much more! CREATE a big and beautiful outdoor urn arrangement. Fee of $89.99 includes large lantern centre feature, urn insert with soil, greenery and branches, decorations and geo-mesh. Coffee, tea and treats, prizes and a 10% discount on all your other shopping for workshop registrants. Register by email at westlandgreen@hay.net or call Anita at 519 – 238 -1321. SHOP for colourful and exotic plants – exotic anthuriums, orchids, poinsettias, cyclamen, african violets, venus fly traps, amaryllis and christmas cacti. IMPORTANT DATES TO REMEMBER: Christmas Comes Early to Grand Bend Nov. 11, 12, 13. Grand Bend Area Holiday Home Tour Nov. 18, 19, 20 : Tickets available at Westland. Westland's Open House Nov. 26, 27 (visit Santa from 11:00 -2:00, kids make free arrangements, prizes and fun). ENJOY our tropical birds, relax in our sitting area, browse our unique gift and plant selection.
westlandgreenhouses.com
Fri. Nov. 18, 8am – 9pm | Sat. Nov. 19 & Sun. Nov. 20, 8am – 6pm

Destination: Pine Dale Motor Inn
107 Ontario St. South, Grand Bend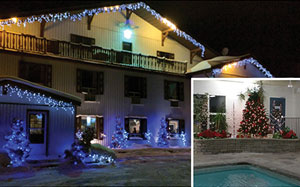 "Home away from home" and "heavenly" are among comments about Pine Dale Motor Inn that have earned it the coveted TripAdvisor Certificate of Excellence. The Home Tour Special includes accommodations, wine and chocolates. Extensive treed grounds and gardens are all-season delights. Enjoy our saltwater pool, whirlpool & sauna. Start your Christmas shopping – certificates for swimming lessons and in-house multi-vendor Holiday Market (The Holiday Market runs on Sat. Nov. 19, from 10:00 am to 4:00 pm). Mid-town convenient, pet-friendly and welcoming.
pinedale.on.ca | 519-238-2231


Destination: MacPherson's Restaurant
8512 Lakeshore Rd., Northville

Open every day 6 am to 10 pm ( Sundays open at 7am), MacPherson's is the local choice for a home-cooked
meal. Breakfasts are served until 2 pm every day – try our Eggs Benny – an all-time favorite! We are fully licensed with a selection of wines, beers, and spirits. Lunch and Dinner options include fresh hand pressed 100 % pure beef burgers, sandwiches, homemade soups, clam chowder and fresh green salads and fish & chips. AAA slow roasted peppercorn prime rib, traditional hot beef sandwiches, liver & onions, homemade meat loaf and a selection of pastas dishes are options. And from Lake Huron – fresh pickerel and perch dinners. All dinners are served with salad or soup, fresh vegetables and choice of potato. Fresh roasted Turkey Dinner with all the trimmings is served every Wednesday. Finish off your meal with Oma's Fresh Butter tarts (baked daily), or a selection of our homemade cream pies, traditional bread or rice pudding. Dine in or take out. MacPherson's Restaurant – not only a restaurant – a lottery centre, scoop Ice cream, variety items, gift shop, fuel stop, and more. Highway 21 at Port Franks Road.
macphersonsrestaurant.ca | 519-243-2990
Mon. – Sat. 6am – 10pm | Sun. 7am – 10pm