2017 Destinations
– 2017 Grand Bend Holiday Home Tour Destinations feature participating local retailers ready to offer you products featured in the homes and available for purchase as well as many other unique, seasonal finds!

Destination: MacPherson's Restaurant
8512 Lakeshore Rd., Northville

Open every day 6am to 10 pm (Sundays open at 7 am). MacPherson's is the local choice for a home-cooked meal. Breakfast'til 2 pm every day – try Eggs Benny, an all-time favourite!
Lunch and Dinner options include fresh hand-pressed 100% pure beef burgers, sandwiches, homemade soups, clam chowder and fresh green salads and fish & chips. AAA slow-roasted peppercorn prime rib, traditional hot beef sandwiches, liver & onions, homemade meat loaf and a selection of pasta dishes are options. Fresh from Lake Huron – pickerel and perch dinners. All dinners served with salad or soup, fresh vegetables and choice of potato. Fresh roasted Turkey Dinner with all the trimmings served every Wednesday. Fully licensed with a selection of
wines, beers, and spirits.
Finish off your meal with Oma's Fresh Butter Tarts (baked daily), or a selection of our homemade cream pies, traditional bread or rice pudding. DINE IN OR TAKE OUT.
Lottery Tickets • Scoop Ice Cream • Variety Items • Gift Shop • Fuel Stop and more.
Mon. – Sat. 6:00 am – 10:00 pm Sun. 7:00 am – 10:00 pm
Highway 21 at Port Franks Road : 519-243-2990 : macphersonsrestaurant.ca

Destination: Green Bucks Christmas Store
99 Ontario St. S., Grand Bend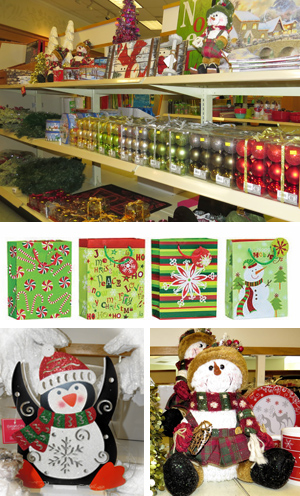 WE'RE ALL ABOUT CHRISTMAS and the holiday season here at Green Bucks Seasonal/Christmas Store!
HOLIDAY DÉCOR options run the gamut from Christmas ornaments, wreaths, lights to sparkle your season, wooden signs, Christmas picks, and indoor and outdoor bows to
eye-catching special touches that will delight you and your holiday guests.
STRETCH YOUR CHRISTMAS BUDGET at your one-stop, affordable holiday supplies store. STOCK UP on tiny to super-sized gift bags (thousands in stock!), Christmas-themed gift boxes and gift wrap. ENTERTAINING is a breeze with disposable plates, cups, napkins and tablecloths in a broad assortment of colours, themes and patterns.
CHECK OUT our gift items and stocking stuffers, including the Crayola line and the newest/hottest items for the season. A friendly welcome and much more await you!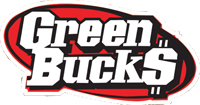 519-238-5058
Fri. Nov. 17 10:00 am – 5:30 pm
Sat. Nov. 18 9:00 am – 5:30 pm
Sun. Nov. 19 10:00 am – 5:00 pm
Destination: Baillie's Christmas Art Show & Sale
22-81 Cresc.ST., Grand Bend
SPECIAL EXHIBITION of new work by five area artists opens Nov. 18th and continues until Dec. 24th.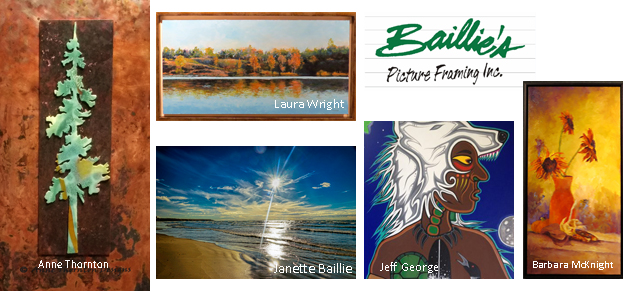 519-238-1472 • bailliespictureframing.wordpress.com
Sat. Nov. 18 9:30 am – 4:00 pm Sun. Nov. 19 Noon – 5:00 pm

Destination: Stone House Brewing Company
76050 Parr Line, Varna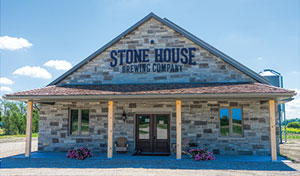 Experience a local craft brewery near Bayfield. Taste the clean finish and distinctive flavour of beer brewed with Czech Saaz hops, Canadian two-row malted barley and water from a 250-foot-deep well. Drop in to discover what many are raving about. Take home a "little brown jug", a Growler that holds 64 ozs. or 1.89 liters. Book a Tour and Tasting event with STONE HOUSE BREWING COMPANY to try their Pilsner by calling 519-281-1167 or emailing stonehousebc@tcc.on.ca. Space is limited.
519-281-1167 | stonehousebc@tcc.on.ca.  Details at stonehousebrewing.ca.
Mon. Wed. Thurs. 11am – 6pm | Fri. & Sat. 10am – 7pm | Sun. 12pm – 5pm

Destination: Pine Dale Motor Inn
107 Ontario St. South, Grand Bend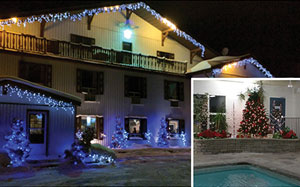 PAMPER YOURSELF with THE HOME TOUR SPECIAL
that includes wine and chocolates during your relaxing
stay. "Home away from home" and "heavenly" are
among comments about Pine Dale Motor Inn that
have earned us the coveted TripAdvisor Certificate
of Excellence. Extensive treed grounds are all-season
delights. Enjoy our saltwater pool, whirlpool & sauna.
Start your Christmas shopping – with certificates for
swimming lessons and treasures from our in-house
multi-vendor Holiday Market on Sat. Nov. 18 10:00 am
– 4:00 pm where you can Shop and Create!
Mid-town convenient, pet-friendly and welcoming.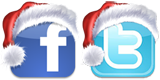 pinedale.on.ca | 519-238-2231 | 1-888-838-7463
Destination: Gift of Art / Foodies
19 Main St., Grand Bend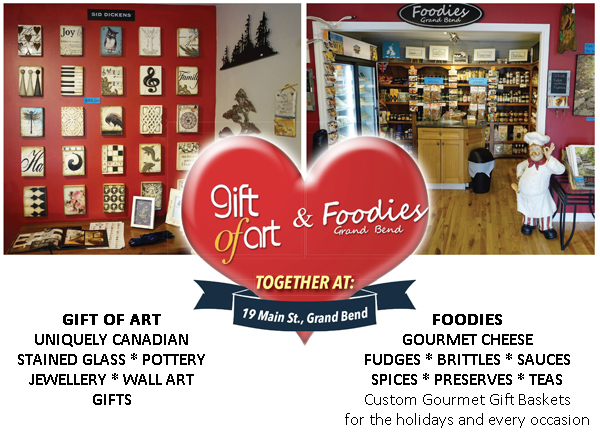 519 – 238 – 1576 ♦ Fri. Nov. 17, ♦ Sat. Nov. 18, ♦ Sun. Nov. 19 10am – 7pm

Destination: Oakwood Resort
70671 Bluewater Hwy., South Huron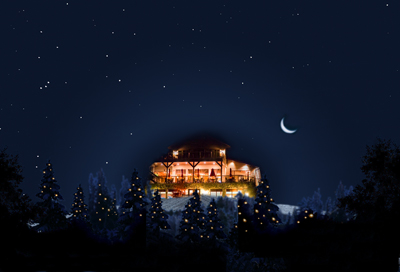 CELEBRATE THE HOLIDAYS AT OAKWOOD RESORT, a year-round destination along the shores of Lake Huron for over 95 years. We welcome you to stop in to Dave's Pub & Grill for a holiday-inspired special and cocktail.
Local favourite musician Dayna Manning will be performing Friday and Saturday night at Dave's during the tour. While you're here, reserve a seat for our popular Christmas Dinner,
or for New Year's Eve at our DJ Dance and/or Dinner, or New Year's Day Brunch. Find out about all of our upcoming
Specials and Events by signing up for our email updates at www.oakwoodresort.ca.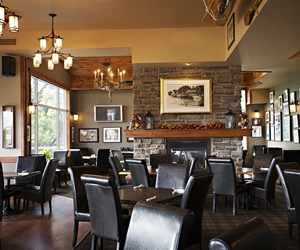 Guests come from across the province to enjoy overnight
getaways, chef-prepared meals, family celebrations, weddings, corporate meetings and retreats. Oakwood Resort features 126 rooms, suites and cottages, 2 restaurants, a full-service spa and an 18-hole golf course. All amenities are open to the public and enjoyed by guests throughout the year. We look forward to hosting you at Oakwood Resort!
519-238-2324 ♦ 1-800-387-2324 ♦ oakwoodresort.ca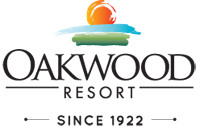 Destination: Sobeys
55 Main St. E., Grand Bend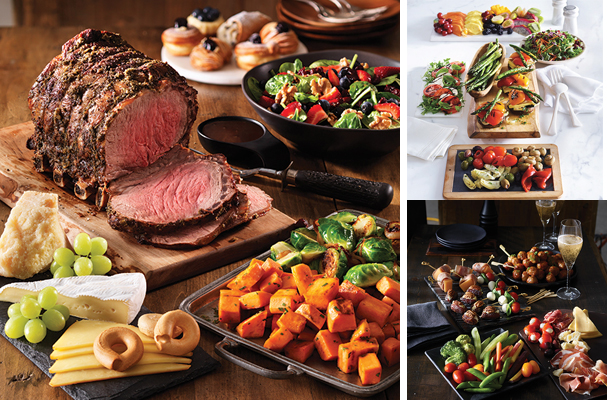 HOLIDAY ENTERTAINING can be a breeze with Sobeys. Premium-quality ingredients create more than 60 platter and tray options that will leave you catering-carefree – to mix, mingle, nosh, nibble and enjoy – so you can feel like a guest at your own holiday parties.
ORDER ONLINE or IN STORE. Peruse the treats under Entertaining Platters on our website. Choose the items for your table, enter pickup date, pickup time and your pickup location and faster than you can sing the first verse of Deck the Halls or Jingle Bells, your no-fuss, no-muss party planning is well underway.
Freshly-made, especially for you: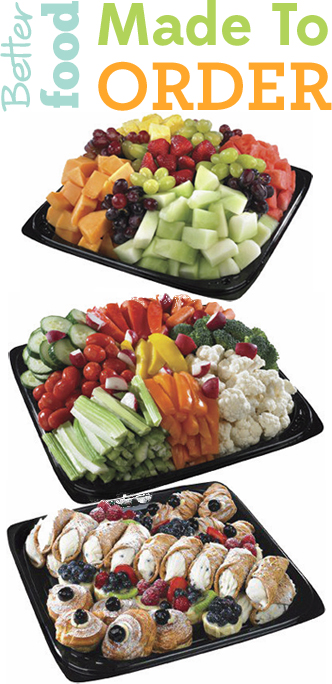 • Sandwiches, salads, fruit and dessert trays
• The Dinner Party menu that includes prime rib
roast and all the trimmings
• Cheese and meat platters
WE'VE GOT THE GOODS to showcase your creative bent for
entertaining. Select the add-ons – beverages from sparkling
cold drinks to holiday eggnog, freshly-ground coffee and an
array of hot chocolate and teas. Add floral flair to your table
setting with our festive flowers and plants.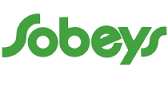 ORDER ONLINE sobeys.com/en/stores/sobeys-grand-bend
519-238-8944 • WINTER HOURS: 8:00 am – 9:00 pm
Destination: Bad Apple Brewing Company
73463 Bluewater Hwy., Zurich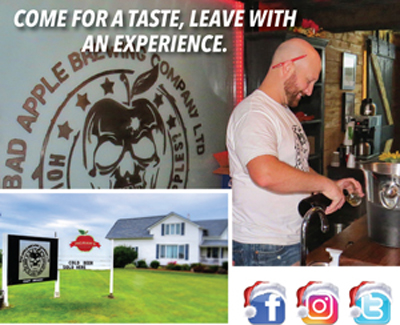 FOLLOW A COUNTRY LANE to Bad Apple Brewing Company for a taste of our latest craft beer and apple beer recipes. Hear brewer Jason describe the story behind each of his beers while you sample them. Walk and take pictures in
our orchard and vineyard where you will find our brewery and retail store that is located in an historic century barn. Find us along the beautiful shores of Lake Huron on Highway 21, nestled 15 min. south of Bayfield and 10 min. north of Grand Bend.
#badappLbrewN ♦ badapplebrewingco.ca
HOURS: Sat. Nov. 18 & Sun. Nov. 19 10:00 am – 5:00 pm
Destination: The Colonial Hotel
1 Main St. W., Grand Bend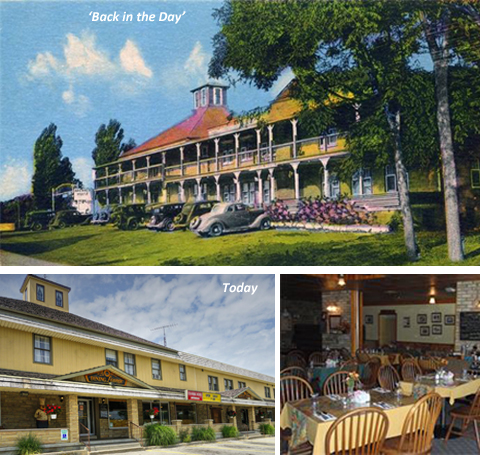 'BACK IN THE DAY' The Colonial Hotel, built before 1880, welcomed locals and visitors. The welcome mat is still out for accommodation and dining. The landmark offers breakfast, lunch, munchies and entrées like fresh Lake Huron Perch and Pickerel. Try Mom's Rum and Raisin Bread Pudding. In the sports lounge: Fri. night Karaoke; Wed: Wing Night. Special menus for holiday parties; book ahead. Local lore: a horse once climbed the staircase!

OPEN YEAR ROUND EXCEPT CHRISTMAS AND NEW YEAR'S DAY
219-238-2371 ♦ Colonialhotel-grandbend.com
Destination: akSence Gift Boutique, Cafe & Catering
8 Main St., Grand Bend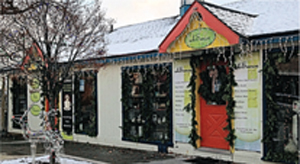 DISCOVER why akSence has earned its rep as a destination in Grand Bend… a perfect spot to include in your day out!
Award-winning Las Chicas Coffees, a light lunch or freshly-baked goodies are yours to enjoy in our cozy café. Call ahead to reserve a HIGH TEA – savoury sandwiches, scones with Devonshire clotted cream and preserves – with a delicious finish of our decadent sweets! Browse our unique gift boutique to treat someone special. akSence also offers catering, custom cakes and desserts for all occasions.
Nov. 17th starts Christmas Comes Early Weekend with tax-free sales, a chance to win a limited edition Jim Shore Santa valued at $200. The perfect weekend to start your Christmas shopping!
Open year-round – Tuesday to Sunday 9:00 am – 4:00 pm.


226-377-1851 | akSence.com
Westland Greenhouses
10133 Lakeshore Rd., Grand Bend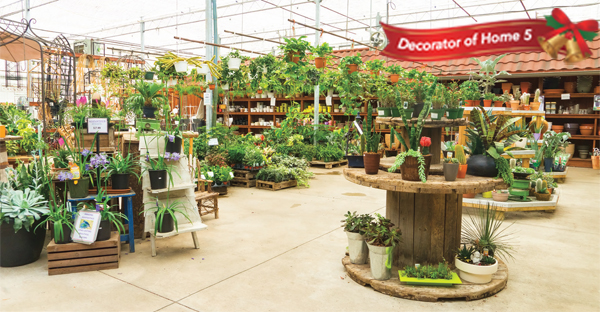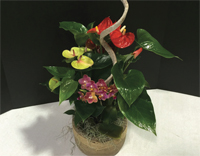 ENJOY a bright and beautiful holiday experience at Westland Greenhouses. We've got Christmas covered… birch, evergreen boughs, holly, potted and cut Christmas trees, indoor and outdoor urns, holiday décor items and so much more!
COLOURFUL AND EXOTIC PLANTS are bloomin' beautiful! Anthuriums, orchids, poinsettias, cyclamen, African violets, venus fly traps, amaryllis and Christmas cacti show their colours.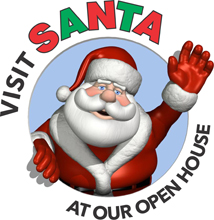 MARK YOUR CALENDAR:
Christmas Comes Early to Grand Bend: November 17, 18, 19
Grand Bend Area Holiday Home Tour: November 17, 18, 19
HOURS:
Fri. Nov. 17 8:00 am – 8:00 pm
Sat. Nov. 18 & Sun. Nov. 19 8:00 am – 6:00 pm
Westland's Christmas Open House: November 25, 26
– Visit Santa from 11:00 am – 2:00 pm
– Kids make free arrangements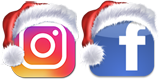 – Prizes and fun!
SHOP & BROWSE our unique gift and plant selection in
airy, bright and beautiful Westland Greenhouses.
519-238-1321 ♦ westlandgreenhouses.com ♦ westlandgreen@hay.net
Destination: Hayter's Farm
37467 Dashwood Rd., Dashwood

Harry Hayter began raising turkeys on this farm in 1948. Over 65 years and 3 generations of family farming later, Hayter's turkeys have always run freely in spacious open-sided barns. Best practices in animal care and the highest level of quality control from start to finish make us a trusted brand. Our fresh farm to fork turkey is delicious, nutritious and good for the local economy and environment too. Products at Hayter's Farm retail store include: boneless roasts • gluten free sausages & burgers • schnitzel • marinated fillets • lasagna • meatloaf • deli items & unique sauces. On the Holiday Home Tour weekend only receive a free shopping bag when you order your fresh turkey for the holiday season ahead!
519-237-3561 | haytersfarm.com
Retail store open Monday to Saturday 9am – 6pm and Sunday 11am – 4pm.

Destination: Schoolhouse Restaurant
19 – 81 Crescent St., Grand Bend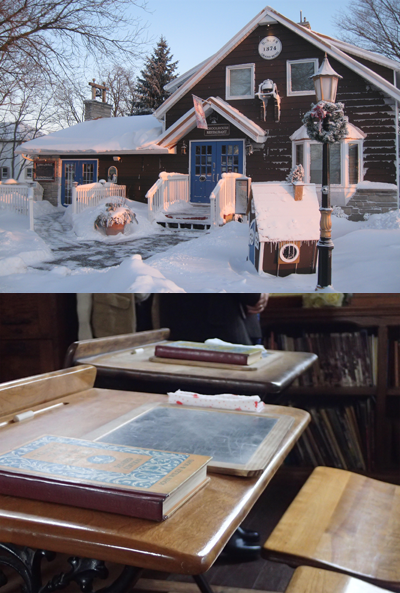 Nestled on a wooded lot by the river, the Schoolhouse Restaurant welcomes you into the historic 1874 Grand Bend Public School. Peruse photos and memorabilia from the era when kids toted a honey pail lunchbox … where over 140 years later you can enjoy fine cuisine.
A varied menu includes breakfast until 4 pm and Old School Favourites like meatloaf and pot roast. Try a creative salad or wild boar. The Fresh Catch of the Day is a fan fav as are desserts that even the strictest schoolmarm would give top marks! Chef/Owner Gus Merkies has been cooking for more than 30 years, in Europe and Canada. His cookbook, Cooking with Gusto at the Schoolhouse Restaurant, shares stories of life working in a kitchen and Schoolhouse Restaurant recipes.
519-238-5515 ♦ grandbendschoolhouse.ca
Fri. Nov. 17 9:00 am – 8:00 pm Sat. Nov. 18 & Sun. Nov. 19 8:00am – 8:00 pm.
Destination: Grog's Pub & Grill
8604 Lakeshore Rd., Northville
Find out why first-time visitors become regulars at Grog's Pub & Grill, a mainstay on the Grand Bend-Port Franks beach scene for a long time. Enjoy the pub atmosphere with its large-screen TVs or use the take-out service – phone ahead and then pick up! This casual eatery has a warm atmosphere that includes a fireplace to welcome you in cold weather. There are menu options for any budget, at any time of year.
Enjoy a cocktail, a fine wine or a selection from our 15 taps of draft, including the old-time favourites, new craft beers and ciders.
Start with the famous Grog's Zaney Bread, a cheese-filled hot appetizer. Pizza is justly touted as must-try, as is our seafood chowder and our popular lime cheesecake! Other great selections are Rib Eye steak, hand-pressed burgers, oven-baked pastas, Atlantic Salmon and fresh salads.
After dinner enjoy a selection from our collection of single malt scotches. 40 scotches to choose from, including Canadian, Japanese and all regions of Scotland.

519-234-2770 ♦ grogs.ca
Open 7 days a week 11:00 am – 10:00 pm.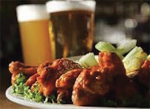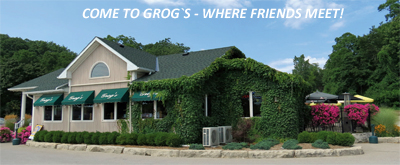 Destination: Bittersweet
139 Ontario St. S., (Hwy.21), Grand Bend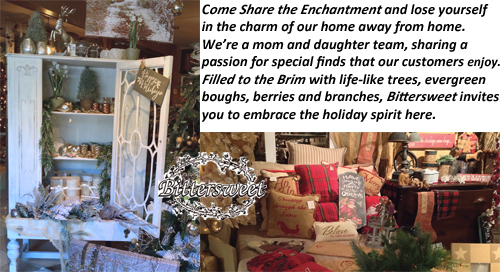 Enjoy the Magic of twinkling lights, holiday scents, and soothing music while you shop.
Browse through our lovely selection of whimsical Christmas items, home décor, candles, jewellery and so much more for your home or for holiday gift-giving. Gift Certificates Available.
519-238-1262 • bittersweetgrandbend.com
FIND US ON HWY 21 BESIDE AUNT GUSSIE'S.
Open every day until Christmas.


Fri. Nov. 17 9:00 am – 8:00 pm
Sat. Nov. 18 9:00 am – 5:00 pm
Sun. Nov. 19 9:00 am – 5:00 pm
Destination: Smackwater Jacks Taphouse & Tours
71 River Rd., Grand Bend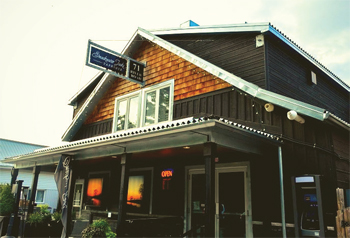 TOUR. Smackwater Jacks Tour the Shore invites visitors to become locals for a day… or locals to explore like tourists! Sit back, relax and enjoy the area sights in a comfortable Mercedes van for a half-day or fullday tour. Choose from Northbound, Southbound, Eastbound, London Brewmaster, and Theatre Lovers or create a Custom Tour.
Select the stops on your tour by picking from a menu of destinations including wineries, breweries, a cidery, distilleries, herb farm or a wine, dine and theatre outing.
On the Grand Bend Area Holiday Home Tour weekend, customize a tour – browse this Guide for inspiration. Think tastes, treats, shopping, floral sensations and art gallery stops.
Book tours online at smackwaterjacks.ca • 519-238-5556 • tourtheshoreinquiries@gmail.com
In addition to tours, we provide transportation for up to 56 people. Book us for: airport shuttle service to Buffalo, Detroit, London and Toronto, weddings, sports outings, private and corporate functions. YOU PLAN! WE DRIVE!



DINE. As part of a tour, enjoy a meal at Smackwater Jacks. Chef Jill St-Amour sources quality, local ingredients for creative dishes on an eclectic menu. Fresh Lake Huron Perch and Pickerel are main course treats. For a fabulous finish, share Caramel & Banana Fried Cheesecake, a house specialty.
DRINK. Savour a beverage or two… from an extensive menu of locally-crafted and international
beers and wines from just around the Bend to halfway around the globe. Sixteen craft beers on tap!
ENJOY. Marvel at one of the most beautiful sunsets in the world from our location at the water's edge.
SAVOUR THE CONVENIENCE. Reserve a table through opentable.com or place an order for pickup asap or at a future date using the Order Online feature at smackwaterjacks.ca.OpenTable at                          


Use the UNTAPPD app – untappd.com to check out our beer selection before your visit.



November Hours:
Friday to Saturday 12:00 pm – 9:00 pm
Sunday 12:00 pm – 8:00 pm
519-238-5556 ♦ smackwaterjacks.ca
Destination: Sunset Arts Gallery
63 River Rd., Grand Bend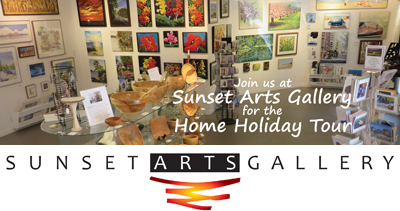 Head over the river and through the woods to Sunset Arts Gallery, your holiday destination for exceptional gifts. Deck your halls with paintings, sculptures, photography and more by the area's top artists. One-of-a-kind items are quickly claimed by eager art lovers, so prepare your wish list and visit early.
PLEASE JOIN US
Fri. Nov. 17 5:00 pm – 9:00 pm
Sat. Nov. 18 11:00 am – 6:00 pm
Sun. Nov. 19 Noon – 5:00 pm
Destination: Maelström Vineyard & Winery
78925 Sanctuary Line, Seaforth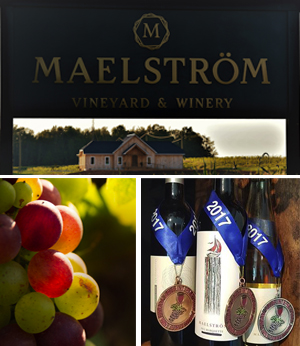 SAMPLE MAELSTRÖM WINES & CIDERS on a guided tour of Huron Country's First Winery. One of the owners will share the history of the farm, the story behind the name and the knowledge and passion that helps produce our award-winning
wines right here in Huron East. After the tour, enjoy tastings of any of fi ve wines as well as two ciders, along with samples of Ontario goat and buffalo artisan cheeses and specialty import cheese. Shop for holiday party beverages and cheeses and select special gifts for those special people on your Christmas list at our warm and welcoming winery.



519-233-9463 ♦ maelstromwinery.ca
Open daily: 11:00 am – 6:00 pm

Destination: Lakewood Garden Centre
Hwy. 21 at St. Joseph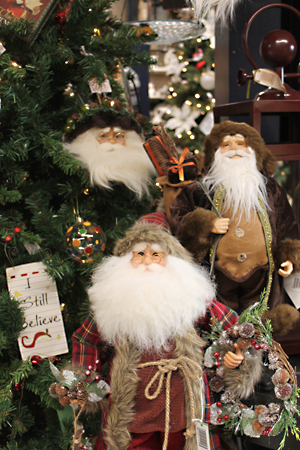 Discover Christmas at Lakewood Garden Centre in St. Joseph! Decorator of Holiday Home #2 of the tour. Our Christmas Shoppe is a favourite destination for all your holiday needs. From elegant to homey, we have something for everyone. Great gifts, fresh greens, unique decorating items and fun additions for your home. Plus top quality artificial trees and fresh cut Fraser fir Christmas trees. COME , ENJOY, EXPLORE! Check out our website for details on our November workshops.
November workshops at lakewoodgardencentre.com | 519- 236-4479
Fri. Nov. 17 9:00 am – 8:00 pm Sat. Nov. 18, 9:00am – 5:00pm Sun. Nov. 19, Noon – 5:00pm
Destination: Dale's Antique Market & Menonite Furniture
10410 Lakeshore Rd., Grand Bend
Dale's Antique Market and Mennonite Furniture is a second-generation, family-owned
business. Our store is filled with handcrafted, Canadian-made Mennonite furniture, available
in a variety of styles or custom pieces. We also offer a remarkable variety of antiques, vintage items, retro
finds and new home décor. We work hard to ensure the high quality and value of our products. Come
visit our store and experience first-hand our one-of-a-kind mix of new and old.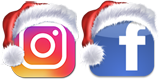 519-238-2880 ♦ dalesantiquemarket.com
Fri. Nov 17, Sat. Nov. 18 & Sun. Nov. 19 10:00 am – 5:00 pm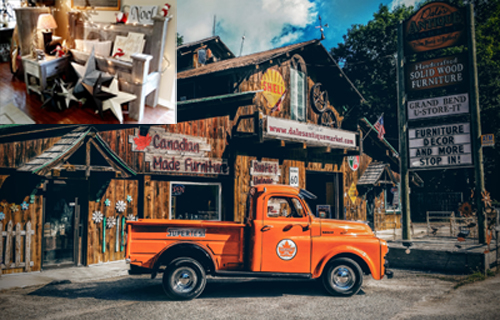 Destination: Aunt Gussie's
135 Ontario St. S., Grand Bend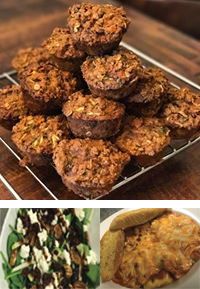 Our family has been welcoming folks since the '50s; you might be served by a fifth-generation family member at this hospitable establishment. Wide-ranging menu for any appetite and pocketbook. A cozy, casual atmosphere … warm up by the fireplace; dine in a private booth; join family and friends at a large table in the sunroom.
Local cider, craft beers and wine. Homemade desserts.
Gluten-free & vegetarian options.
Check us out online for details.
LIVE MUSIC & COMPLIMENTARY TASTINGS



519- 238-6786 ♦ auntgussies.ca
Serving Breakfast ♦ Lunch ♦ Dinner
Destination: Pizza Delight
99 Ontario St. S., Grand Bend
PIZZA, SALADS, RIBS, CHICKEN are options at Pizza Delight Grand Bend. Settle into a cozy booth by a window, choose a family-sized table, or perch on a barstool. Discover why locals and visitors alike come here – for a wide variety of pizzas and other Italian specialties like chicken Parmigiana, 5-layer lasagna, or chicken Alfredo linguini as well as fresh salads and chicken and rib main dishes. Gluten-free and vegetarian options.
Fully licensed. GIFT CERTIFICATES.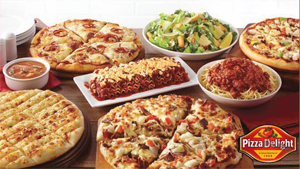 519- 238-8330 ♦ pizzadelight.com
HOURS: Sun. – Thurs. 1130 am – 9.00 pm
Fri. – Sat. 11:30 am – 10:00 pm
Destination: The Garden Gate Gifts & Florals
55 Main St. E., Grand Bend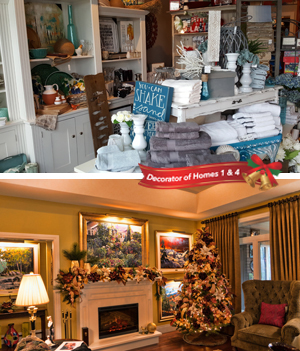 WONDERFUL SURPRISES await you at The Garden Gate Gifts & Florals shop. Celebrating its 10th anniversary this year, this full-service floral shop has earned its superb rep – designs for all occasions…or just because!
THINK HOLIDAY DÉCOR! Suit your festive mood, theme and holiday colour palette – fabulous finds for your home or for gifts.
There's much more! Bathroom accessories, Turkish towels, hot kitchenware trends and cool gadgets. Baby and children's gifts. Unique home and garden décor items. Custom signs.
519- 238-1701 ♦ 1-877-238-1701 ♦ thegardengate.ca


Fri. Nov. 17  9:00 am – 9:00 pm
Sat. Nov. 18  9:00 am – 7:00 pm


Sun. Nov. 19  11:00 am – 5:00 pm