2020 Dates for the Grand Bend Area Holiday Home Tour…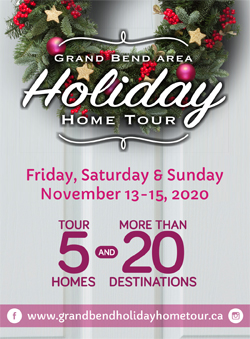 Homes open to tour:
Friday, November 13 – hours TBD
Saturday, November 14 – hours TBD
Sunday, November 15 – hours TBD
••••••••••••••••••••••••••
Thank you to all who made the 2019 Grand Bend Area Holiday Home Tour a resounding success!
So many people contributed their time and talents…hearts and homes and helping hands opened wide to make this 4th Annual Home Tour a wonderful event for all. Thanks to:
Homeowners for sharing their residences
Decorators whose talents were on display in the homes
Sponsors for their generous support
Scores of volunteers who welcomed visitors in the homes
Two dozen business destinations for their participation
All those who worked behind the scenes throughout the year
The hundreds of ticket-buyers who supported the event; ticket proceeds go to local community groups for their projects.
And for arranging perfect holiday season weather – thanks Santa!
••••••••••••••••••••••••••

See the homes on the 2019 tour; click Tour on the menu bar
Benefiting Organizations

The Jingle Bells Group comprises folks from
Grand Bend & Area Chamber of Commerce as well as from other businesses and charitable groups. Our mission is to illuminate the core area with lighting, vignettes, etc. Join us for Light Up Grand Bend – Optimist Park, 5:30 pm Fri. Nov. 15.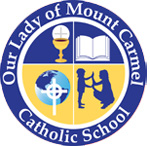 Our Lady of Mount Carmel School will use funds raised funds for current and future projects. The 125 students in this rural school will benefit from technology improvements provided by the helping hands of these monies.

The West Coast Lions Club will utilize funds raised to provide voluntary service for community involvement, charitable projects and international co-operation. Where there's a need, there's a Lion!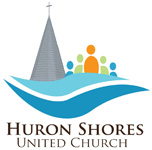 Huron Shores United Church in Grand Bend has completed the Sanctuary/Concert Hall and Fellowship Hall renovations. Summer services are held during July and August in our green space. Indoor concerts are held on a regular basis. All are welcome.
Thank you to Our Gold, Silver, & Bronze 2019 Sponsors
Thank you to Our 2019 Presenting Sponsors
Home Tour Procedure & Etiquette
Your home tour ticket allows you to visit each home once, in any order, throughout the weekend. Children must have a ticket, be accompanied by and supervised by an adult.  Parents are responsible for their children.
ETIQUETTE FOR HOME TOUR VISITORS TO THESE PRIVATE RESIDENCES
Remove shoes as you enter (shoe bags are provided).
Obey parking attendants.
No food or beverages inside the home.
No photos.
No touching or handling furnishings or décor.